Here we want to give another example for a closing loop experiment considering six degrees of freedom. Robot motion and localization on natural surfaces, e.g., driving with a mobile robot outdoor, must regard these degrees of freedom. Scan matching, combined with a heuristic for closed loop detection and a global relaxation method, results in a highly precise mapping system for outdoor environments. Download the paper here.
The Video
The video shows the 6D SLAM result and additionally a smooth trajectory has been computed. The video shows the path the robot has taken, i.e., the camera follows the trajectory.

Video (DiVX 500 MB)
Video (low-res DiVX 206 MB)
Video (low-res MPEG 72 MB)

Please use a DivX player to show the video.

The 3D Map
Click images to enlarge!


Note: The grid at the starting point denotes an area of 20 x 20 m2 for scale comparison.

Here are some 3D views: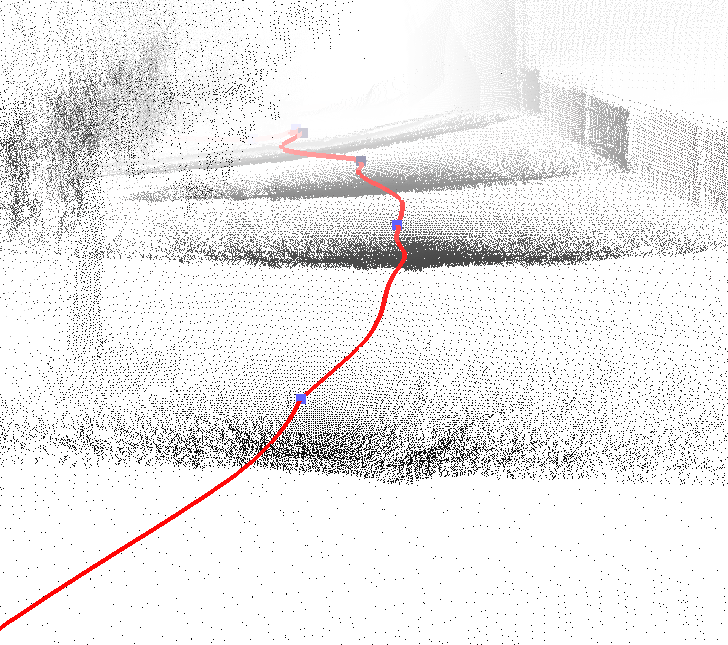 Reference
Andreas Nüchter, Kai Lingemann, Joachim Hertzberg, and Hartmut Surmann. Heuristic-Based Laser Scan Matching for Outdoor 6D SLAM, in KI 2005: Advances in Artificial Intelligence. 28th Annual German Conference on AI, Proceedings Springer LNAI vol. , Koblenz, Germany, September 2005, (accepted). [Get Paper (PDF)] [Get Paper (HTML)]
---
Andreas Nüchter, June 2005